COVID 19 Neutralizing Ab Test Kit Neutralizing Antibodies Rapid Test
Product Detail
Product Tags
COVID 19 Neutralizing Ab Test Kit Neutralizing Antibodies Rapid Test
| | |
| --- | --- |
| Used For | COVID 19 Neutralzing Ab Test Kit |
| Specimen | Serum, plasma, or whole blood |
| Certification | CE/ISO13485/White List |
| MOQ | 1000 test kits |
| Delivery time | 1 week after Get payment |
| Packing | 1 test kits/Packing box20 test kits/packing box |
| Test Data | Cutoff  50ng/mL |
| Shelf Life | 18 months |
| Production Capacity | 1 Million/Week |
| Payment | T/T, Western Union, Paypal |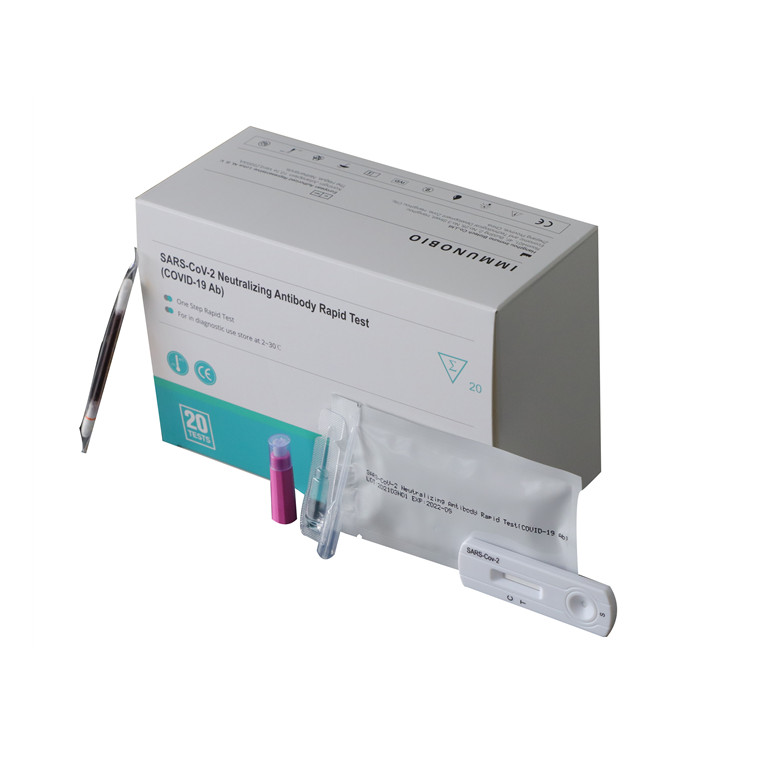 SHORT INTRODUCTION
The rapid neutralizing antibody test (COVID-19 antibody) is used to detect antibodies against SARS-CoV-2 or its vaccine.The cell surface receptor angiotensin-converting enzyme 2 (ACE2) was encapsulated in the test line region, the recombinant receptor-binding domain (RBD) and bound to the specified particle. During the test, if neutralizing antibodies were present in the SARS-CoV-2 sample, they reacted with the RBD-Particle protein conjugate instead of the pre-packaged ACE2 protein. The mixture is then moved up onto the membrane by capillary action without the need for prepackaging through antigen capture. SARS-CoV-2 Rapid Neutralizing Antibody Detection (COVID-19 AB) contains the protein RBD Pack, which is composed of particles. The ACE2 protein was encapsulated in the test line region.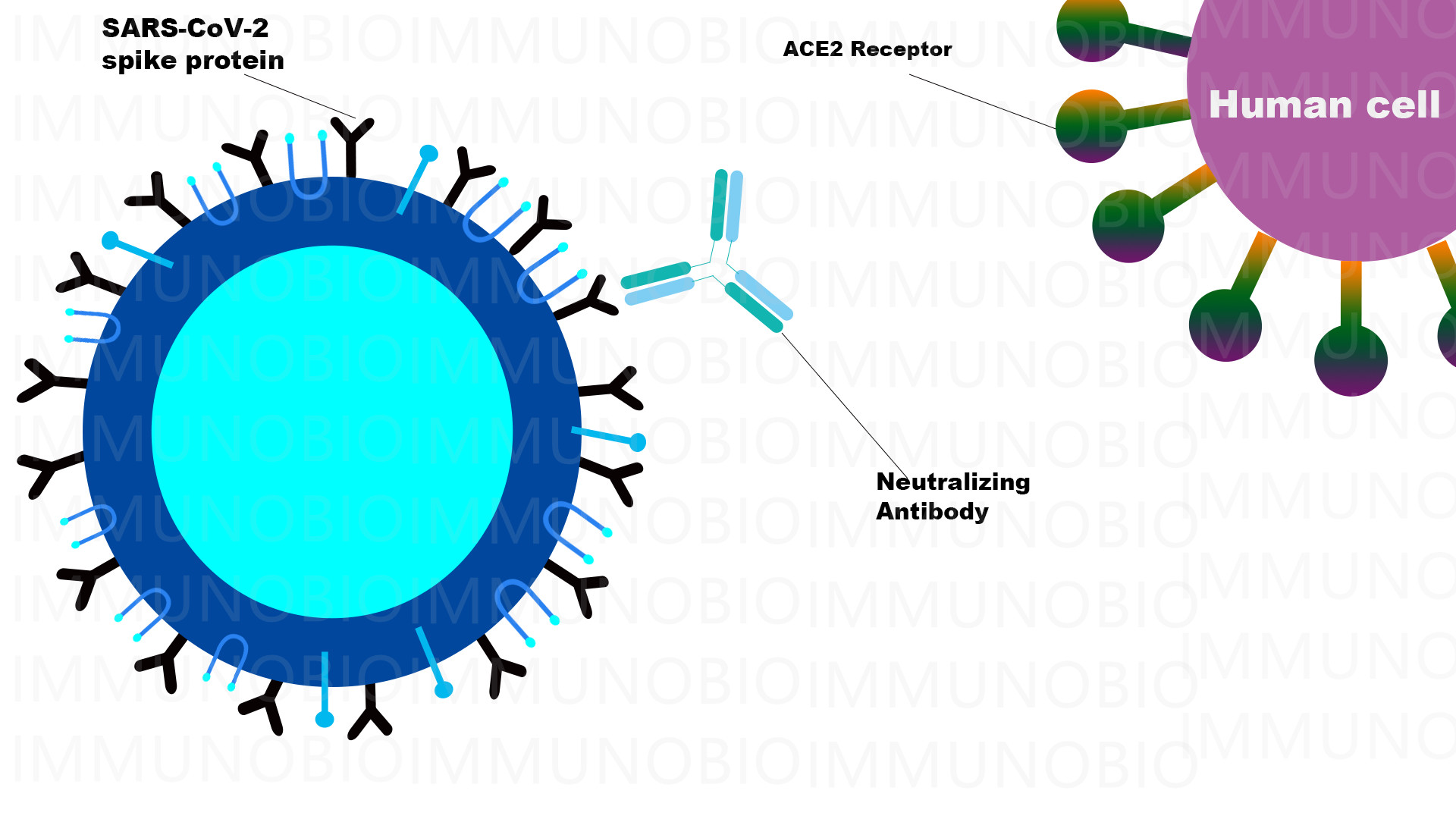 Features
A. Blood test, full fingertip blood is available.
B. The cutoff value is 50ng/mL
C. Simple operation, no additional materials can be used for testing
D. Need a small sample.
10ul serum, plasma or 20ul whole blood is sufficient.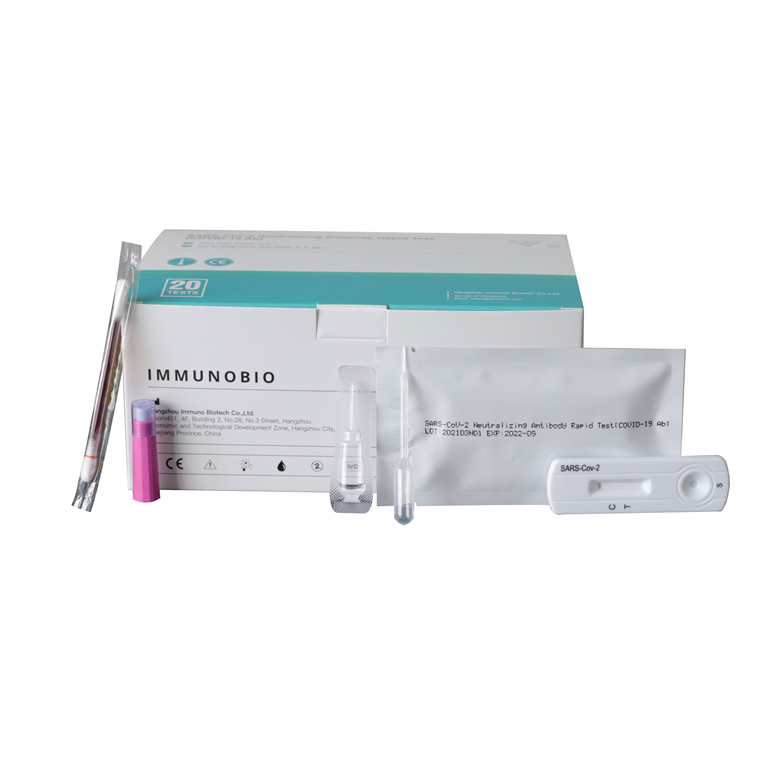 Authorized certifications
CE/ISO13485
White List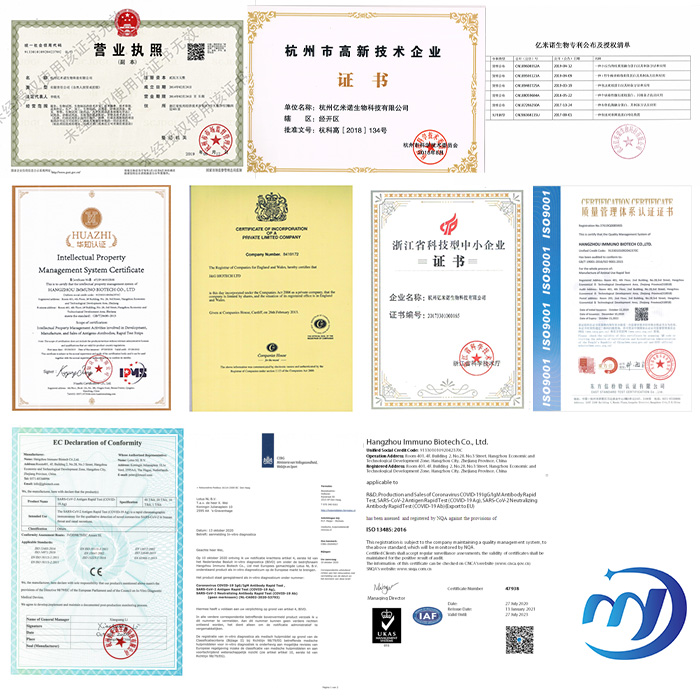 STORAGE AND STABILITY
The kit can be stored at room temperature or refrigerated (2-30°C).
The test strip is stable during the validity period printed on the sealed bag.
The test paper must be kept in an airtight bag before use.
Don't freeze.
Do not use after expiration date.
The kit was stable for 18 months in these storage conditions
Specimen collection and preparation
Whole blood can be used for rapid neutralizing antibody test for SARS-CoV-2 (COVID-19 AB) (whole blood/serum/plasma).
You can use fingertip whole blood and venipuncture whole blood.
Collection of fingertip whole blood samples:
• Wash the sufferer's hands with soap and warm water or clean with an alcohol swab to dry.
• Massage the tip of the middle or ring finger with your hand, massaging the hand without touching the puncture site.
• Use sterile prickles to break the skin.
Wipe away the original blood.
• Gently use your hand from your wrist to your palm to your fingers to form drops of blood around the puncture site.
• Sample is added to the test unit using a dropper or micropipette with a range of 10-100 ul.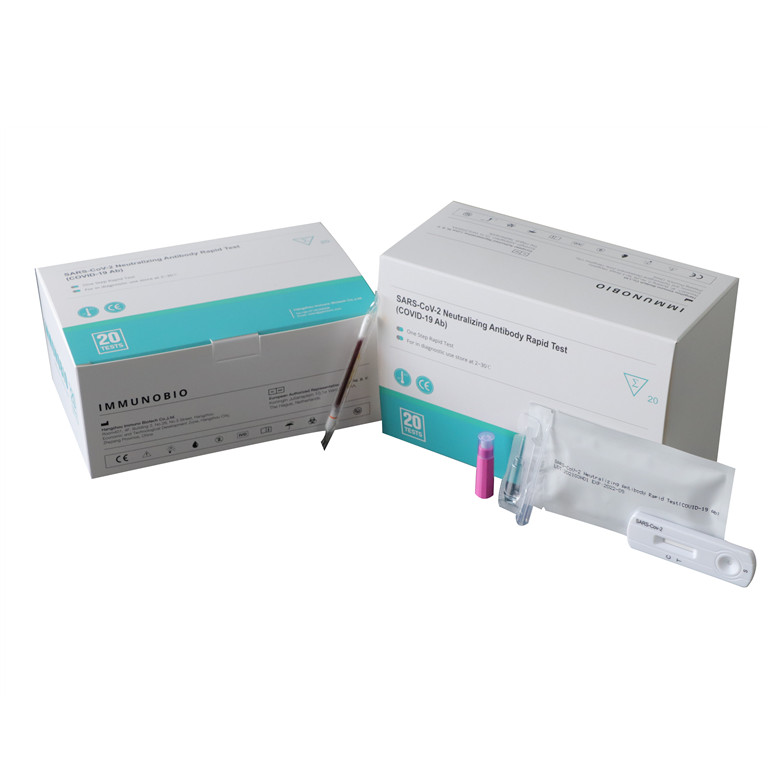 Separation of serum or plasma from blood as soon as possible to avoid hemolysis. Use only transparent, non-hemolytic specimens.
Specimens should be tested immediately after collection. Do not leave the sample at room temperature for a long time. If testing is to be performed within 2 days of collection, whole blood collected via venipuncture should be stored at 2-8°C.
If long-term storage is required, specimens should be kept below -20°C. Fingerstick whole blood collected should be tested immediately.
Place the sample at room temperature before testing. Frozen specimens must be completely thawed and mixed before testing. Repeated freeze-thaw of specimens shall not exceed 3 times.
If specimens are to be transported, they should be packaged in accordance with local regulations for the transportation of pathogens.
TEST PROCEDURE
Allow test equipment, samples, buffers, and/or controls to balance to room temperature (15-30°C) prior to testing.
1. Leave the pouch at room temperature before opening. Remove the test device from the sealed pouch and use it as soon as possible.
2. Place the test equipment on a clean and horizontal surface.
A. For serum or plasma specimens: Collect serum or plasma using a capillary dropper or pipette.
Transfer 10 drops (approx. 100μl) of the sample to the sample well (S) of the test device using a capillary dropper. Start the timer.
Avoid capturing bubbles in sample Wells (S).
B. For whole blood (venipuncture/fingertip) specimens:
Using a capillary droppeter: Place the droppeter vertically over the puncture site and transfer 5 drops of whole blood (approx. 50μl) to the specimen well (S) of the test set. Add 3 drops of buffer (approx. 90μl) and start the timer.
See below. Using a micropipette: Draw 50 μl whole blood and distribute it into the sample well (S) of the test set, then add 3 drops of buffer (approx. 90 μl) and start a timer.
See below.
* The serum/plasma assay is the best test for neutralizing antibodies in the blood. But in this kit, we also provide the material to carry the whole blood.
If the results obtained from whole blood are in doubt, the use of serum or plasma repeat measurements is strongly recommended.

3.Wait for the colored line(s) to appear. Read results at 10minutes. Do not interpret the result after 15 minutes.
INTERPRETATION OF RESULTS

Positive (+) : only C-line occurs, or T-line is equal to or weaker than C-line. The results indicated that there was a SARS-CoV-2 neutralizing antibody in the sample.
-Negative (-) : Both T and C appear when T is stronger than C. This indicates that there is no SARS-CoV-2 neutralizing antibody in the sample, or that the titer of SARS-CoV-2 neutralizing antibody is very low.
- Invalid: Control line does not appear. Insufficient sample size or incorrect procedure technique are the most likely causes of control line failure. View the program and repeat the test with the new test. If the problem persists, stop using the test suite  immediately and contact your local reseller. Expected results of vaccination reference. If vaccinated with COVID-19, the results are expected to be as follows.
- Before first administration: rapid test negative
-3 weeks after first administration: Weak or moderate positive
-1 week after second dosing: Moderate or high positive
-2 weeks after second dosing: Moderate or high positive
LIMITATIONS
1. SARS-CoV-2 rapid neutralizing antibody test (COVID-19Ab) is only used for in vitro diagnosis. This test is suitable for the detection of neutralizing antibodies against SARS-CoV-2 or its vaccine in whole blood, serum or plasma.
2. SARS-CoV-2 Neutralizing Antibody Rapid Test (COVID-19Ab) only indicates the presence of a neutralizing SARS-CoV-2 antibody in the sample and should not be used as the sole criterion for antibody titer detection.
3. In convalescent patients, the titer of the neutral antibody concentration of SARS-CoV-2 may be higher than the detectable level. A positive test for this test cannot be considered a successful vaccination program.
4. The persistence of antibodies does not determine the success or failure of treatment.
5. Results in immunosuppressed patients should be interpreted with caution.
6. As with all diagnostic tests, all results must be interpreted in conjunction with other clinical information available to the physician.
---
---
Write your message here and send it to us