Neutralizing Antibody Test COVID 19 Antibody Rapid Test Kit
Product Detail
Product Tags
Neutralizing Antibody Test COVID 19 Antibody Rapid Test Kit
| | |
| --- | --- |
| Used For |  Neutralizing Antibody Test COVID 19 Antibody Rapid Test Kit |
| Specimen | Serum, plasma, or whole blood |
| Certification | CE/ISO13485/White List |
| MOQ | 1000 test kits |
| Delivery time | 1 week after Get payment |
| Packing | 1 test kits/Packing box20 test kits/packing box |
| Test Data | Cutoff  50ng/mL |
| Shelf Life | 18 months |
| Production Capacity | 1 Million/Week |
| Payment | T/T, Western Union, Paypal |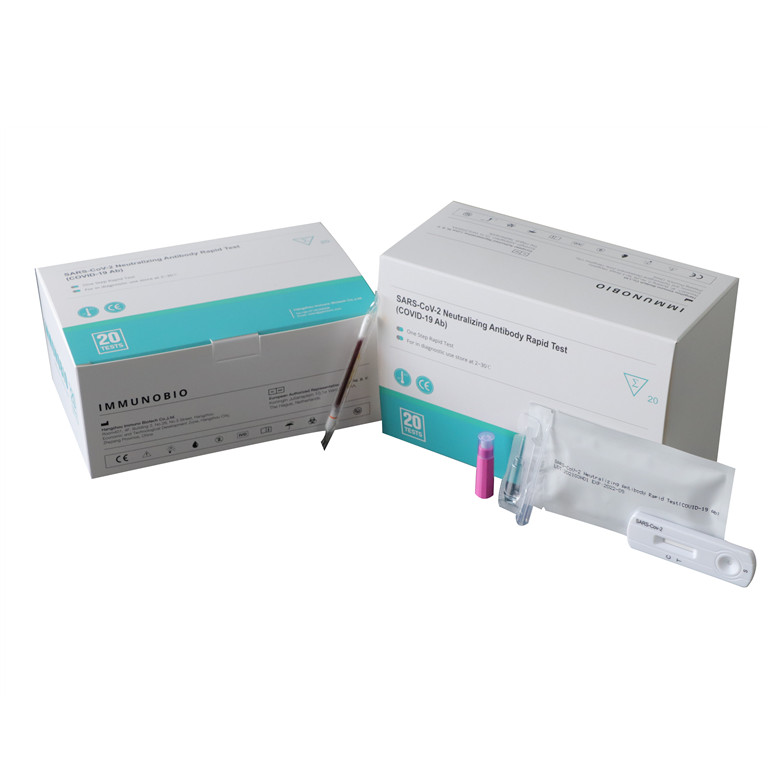 SHORT INTRODUCTION
Covid Neutralizing Ab Test Antibodies Test Kit is used to detect antibodies for vaccines. The protein ACE2 is coated in the test line area, and the protein RBD is coupled to the indicator particles. During the detection process, if the specimen contains neutralizing antibodies against Covid-19, it will react with the rbd particle binding protein instead of the pre-coated ACE2 protein. The mixture then moves upward on the membrane chromatography by capillary action, without being captured by the pre-coated antigen. The new coronavirus neutralizing antibody rapid diagnostic kit contains rbd protein coated particles. ACE2 protein is coated in the detection line area.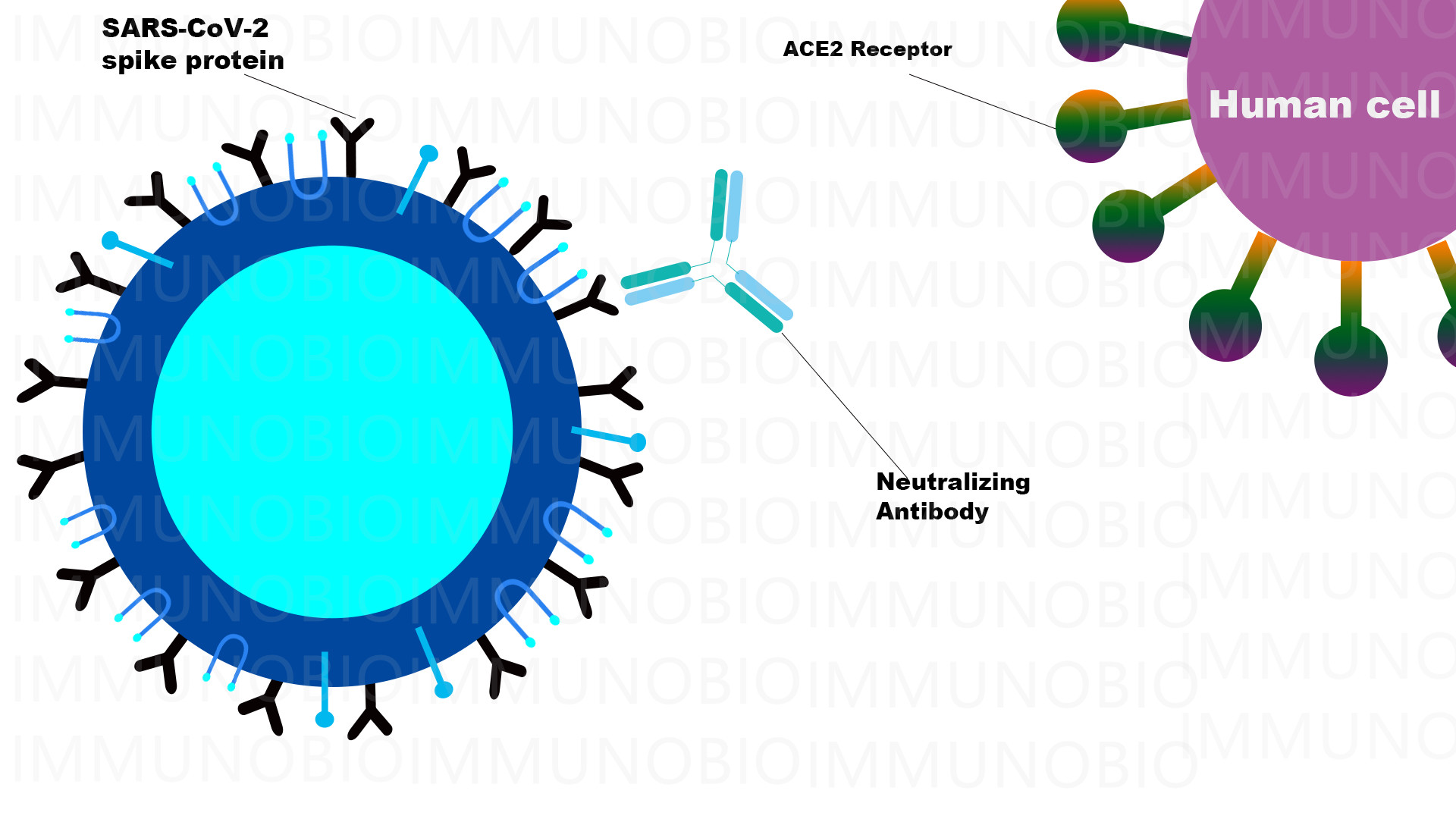 Features
A. Blood test, finger whole blood is feasible.
B. Cut-off value is 50ng/mL
Simple operation, no additional materials are required to run the analysis
D. Small specimens are required. Serum, plasma 10ul or whole blood 20ul is enough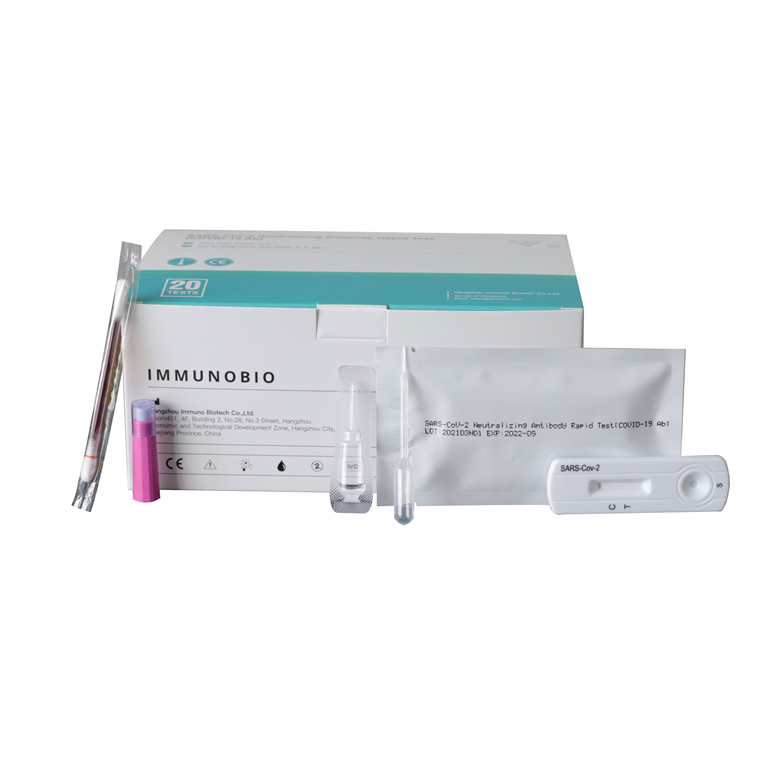 Authorized certifications
CE/ISO13485
White List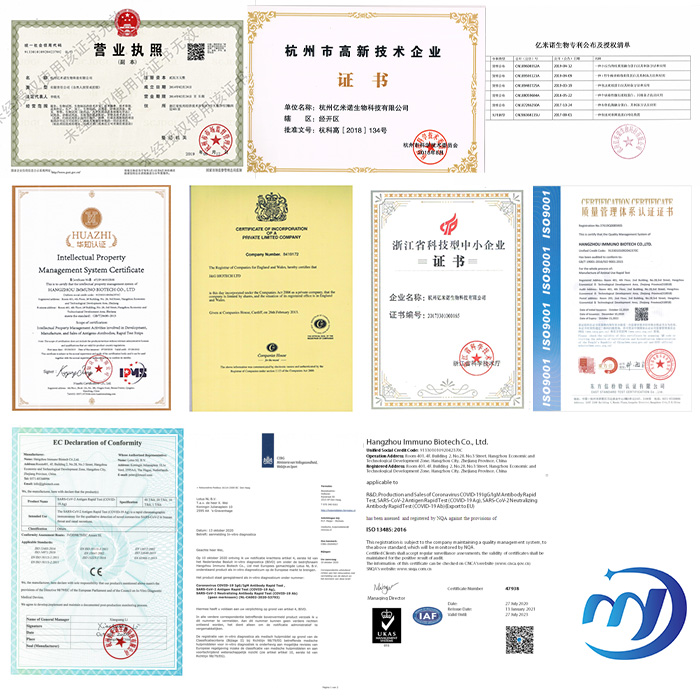 Sample request
Applicable to serum, plasma, venous whole blood or peripheral blood whole blood. Serum and plasma specimens should be stored at 2-8°C for no more than 1 week. If the blood cannot be detected within 1 week after blood collection, it should be sealed and stored at -20°C for less than 2 months. Repeated freezing and thawing should be avoided, and the number of freezing and thawing cycles should not exceed 5 times. Thawed frozen samples should be fully equilibrated to room temperature before testing; venous whole blood should be tested within 8 hours after collection, and peripheral blood whole blood should be tested immediately after collection; severe hemolytic and lipemia samples should not be tested .
Specimen collection and preparation

Serum or plasma specimen:
Place dropper vertically, pull sample to filling line (approx. 10μ L), transfer sample to sample well in test unit, add 3 drops buffer (approx. 90μ L), and start timer. Look at the picture below. Avoid capturing bubbles in the sample.
Whole blood (vein/finger) specimen:
Use of dropper: Place the dropper vertically, place the specimen 0.5-1cm from the perfusion line, take 2 drops of whole blood (about 20μ L) and enter the sample well of the detection device, add 3 drops of buffer (about 90μ L ), and start the timer. Look at the picture below.
With micropipette, drain 20 μL whole blood through pipette, pour into sample well of device to be tested, add 3 drops buffer (about 90 μL), start timer. Look at the picture below.
Test Procedure

Interpretation of Results

The color intensity of the test line region (T) was inversely proportional to the concentration of anti-SARS-COV-2 neutralizing antibodies in the sample. The lower the color intensity of T line, the higher the concentration of neutralizing antibody in the sample .
It is necessary to compare the color intensity of the test line area (T) with the standard color card as shown in the instruction manual (Figure 5) and then determine the test results.
1. Neutralizing antibody is positive
T line color intensity reached G8 and below standard, indicating the presence of neutralizing antibody in the sample to be tested. When T line does not develop color, it indicates that there is a strong level of neutralizing antibody in the tested sample.
2. Negative neutralization antibody
The color intensity of T line is above G9, indicating that there is no neutralizing antibody.
Quality control
Internal program control is included in the test. The colored lines appearing in the control area (C) are internal program control. It confirms sufficient specimen volume and correct procedure technique.
This kit does not provide control standards; however, it is recommended that positive and negative controls be tested as a good laboratory procedure to confirm the test procedure and verify proper test performance.
Limitation
1. SARS-CoV-2 neutralizing antibody rapid test (COVID-19 Ab) is only used for in vitro diagnosis. This test is used to detect SARS-CoV-2 or its vaccine neutralizing antibodies in whole blood, serum or plasma.
2. SARS-CoV-2 neutralizing antibody rapid test (COVID-19 Ab) only indicates the presence of neutralizing antibodies in the specimen, and should not be used as the only standard for antibody titer testing methods.
3. In recovered patients, the titre of SARS-CoV-2 neutral antibody concentration may be higher than the detection level. A positive result of this test cannot be considered a success
Vaccination plan.
4. The persistence or absence of antibodies cannot be used to determine the success or failure of treatment.
5. The results of immunosuppressed patients should be interpreted with caution.
6. As with all diagnostic tests, all results must be interpreted together with other clinical information available to the doctor.
---
Previous:
4 in 1 COVID-19 Rapid Antigen Test kit
Next:
---
Write your message here and send it to us