PEI/Bfarm COVID 19 Rapid Antigen test kits for Preofessional & Layperson Use
Product Detail
Product Tags
PEI/Bfarm COVID 19 Rapid Antigen test kits for Preofessional & Layperson Use
| | |
| --- | --- |
| Used For | COVID 19 Rapid Antigen test kits |
| Specimen | Nasal Swab/Saliva/Sputum |
| Certification | CE/ISO13485/White List/PEI/Bfarm Listed |
| MOQ | 1000 test kits |
| Delivery time | 1 week after Get payment |
| Packing | 1 test kits/Packing box, 5 test kits/Packing box, 20 test kits/Packing box |
| Test Data | Over 95% Sensitivity and Specificity |
| Shelf Life | 2 years |
| Production Capacity | 1 Million/Week |
| Payment | T/T, Western Union, Paypal |
Product Description
The COVID 19 Rapid Antigen test kits is a method of immunochromatographic membrane detection using monoclonal antibodies that are highly sensitive to the new coronavirus. The entire strap is fixed in a plastic device. The reagent membrane contains colloidal gold combined with an anti-Novel coroina monoclonal antibody; the reaction membrane contains an anti-Novel coroina secondary antibody and an anti-mouse globulin polyclonal antibody, and these polyclonal antibodies are pre-immobilized on the membrane.
When the sample is added to the sample window, the conjugate dried in the reagent pad dissolves and migrates with the sample. If there is a new coronavirus in the sample, the complex formed between the anti-new coronavirus conjugate and the coronavirus will be captured by the specific anti-new coronavirus monoclonal coated on the T zone.
Regardless of whether the sample contains virus or not, the solution will continue to migrate and encounter another reagent (anti-mouse IgG antibody). This reagent will bind to the remaining conjugate, resulting in a red line in the C.R area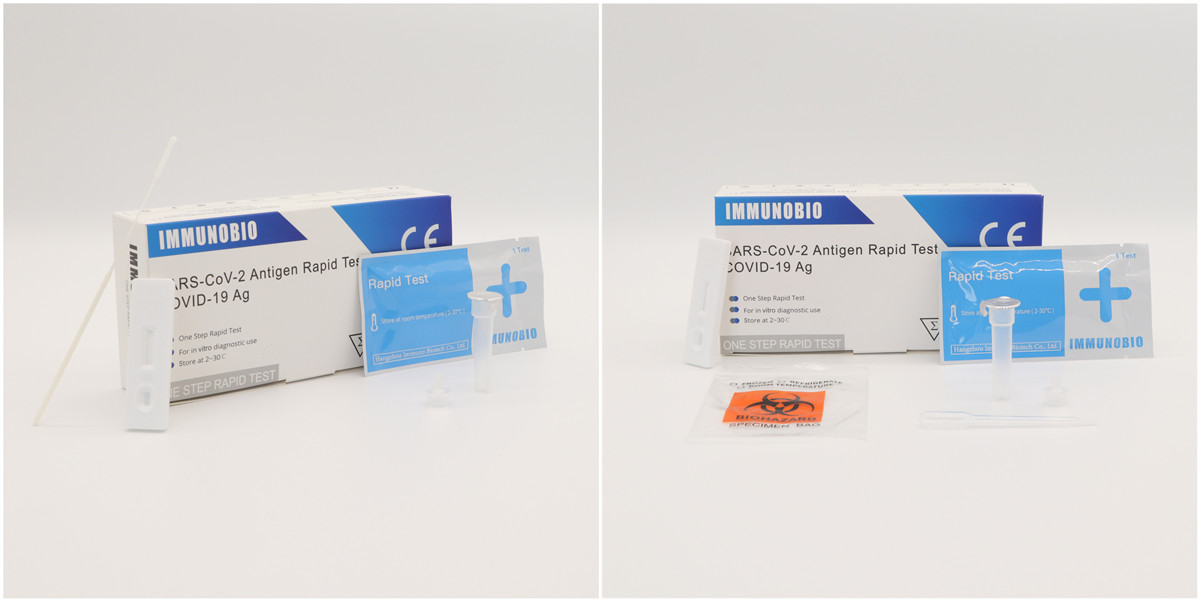 Features
1.Quick quickly within 10-15 minutes
2.Help the patients to make quick treatment decisions
3.Simple and time-saving procedures
4.Small sample, with only a few swabs from the nose or throat
5.Provide all necessary reagents without equipment
6.High sensitivity and specificity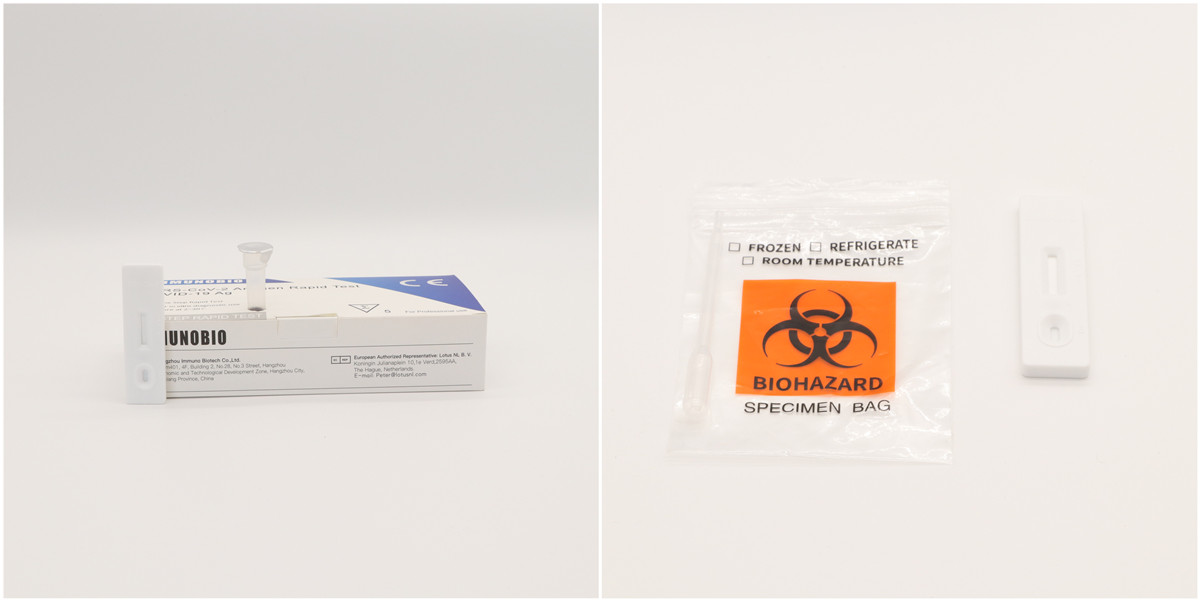 Certificates
1.CE/ISO13485
2. Bfarm listed for professional and self Test kits
3. PEI
4. Registered in Germany/Italy/Austra/Poland/Argentina/Malaysia/Indonesia and etc.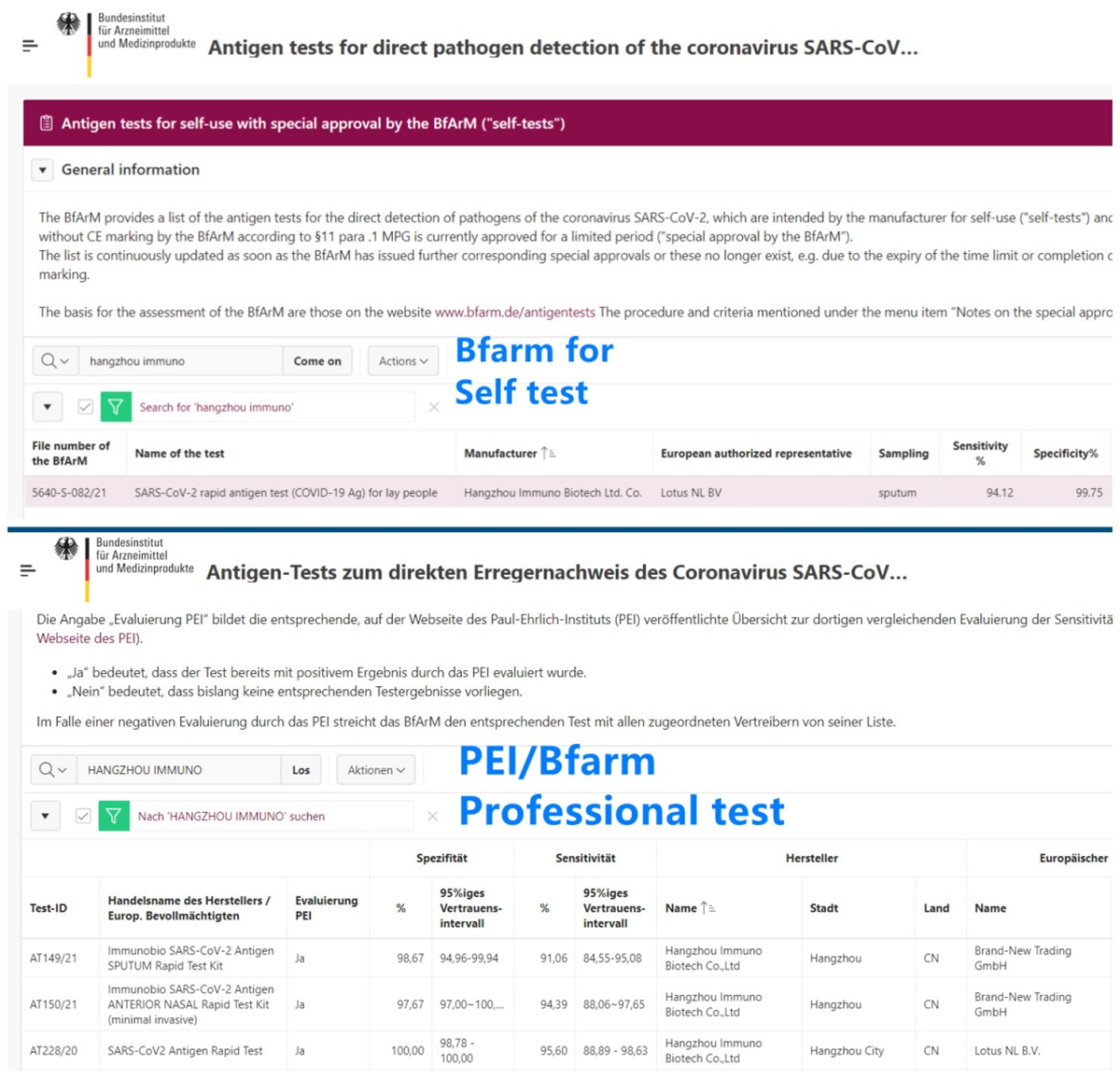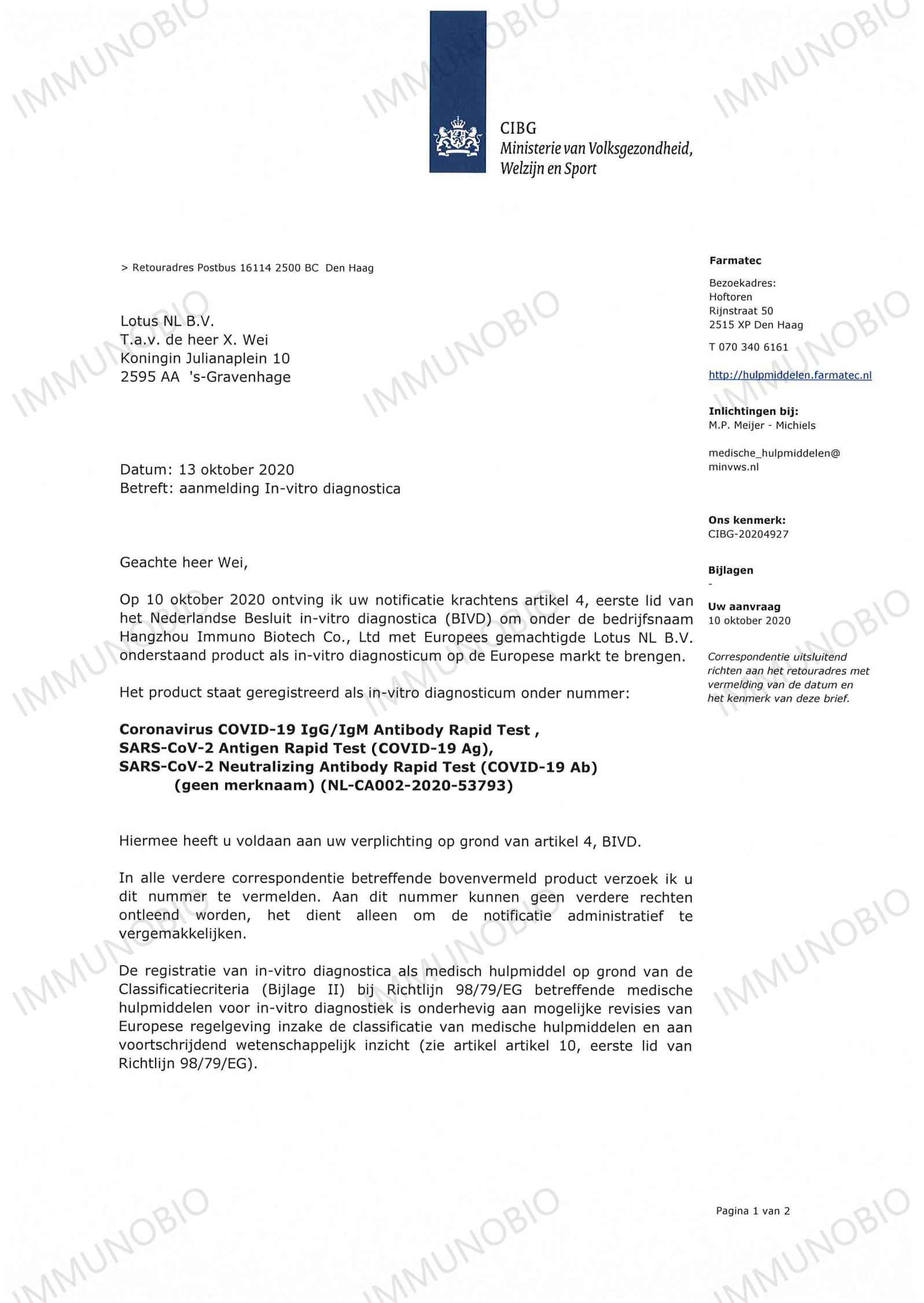 Packing detailes for Covid 19 ag Antigen Rapid Test kits we supply 
Product
Packing Information
Image
COVD -19 Rapid Antigen test
20 test kits packing
Content:
1) 20 Foil pouches with test cassettes and desiccants
2) 20 tubes filled with buffer and dropper dippers
3) 20 Sterile swab
4) 20 droppers
6)1 Instruction for use
7) 1 tube holder
Collection bag optioanal
COVD -19 Rapid Antigen test
5 test kits packing
Content:
1) 5 Foil pouches with test cassettes and desiccants
2) 5 tubes filled with buffer and dropper dippers
3) 5 Sterile swab
4) 5 droppers
5)1 Instruction for use
Collection bag optioanal
COVD-19 Rapid Antigen test
1 test kits packing
Content:
1) 1 Foil pouches with test cassettes and desiccants
2) 1 tubes filled with buffer and dropper dippers
3) 1 Sterile swab
4) 1 droppers
5)1 Instruction for use
Collection bag optioanal
Test producer for Antigen Saliva rapid test kit
Allow test equipment, specimens, buffers, and / or controls to equal room temperature (15-30 °C) prior to test.
1.Take the bag to room temperature before opening.Remove the test equipment from the sealed bag and use it as soon as possible.
2. places the test equipment on a clean-level surface. Turn back the specimen collection tube, squeeze 3 drops of the prepared specimen into the specimen well (S) of the test box, and start the timer.
See the illustration below.

3. waits for the color lines to appear. Read the results in about 10 minutes.Do not explain the results after 15 minutes.
Interpreted results


-Positive (+): Two colored lines appear. A colored line should always appear in the control line area (C), and the other line should appear in the T area.
*Note: The color intensity of the detection line area may vary with the concentration of SARS-CoV-2 in the specimen. Therefore, any shade of color in the test line area should be considered positive and recorded.
-Negative (-): A colored line appears in the control line area (C), and the T area is wireless.
—Invalid: The control line does not appear. Insufficient sample volume or incorrect programming technique is the most likely cause of control line failure. Review the process and repeat the test with a new test. If the problem persists, stop using the test kit immediately and contact your local dealer.
Storage Conditions and Validity
Store at 2-28℃ for 24 months, store in a dry and cool place.
The COV1D-19 Antigen Detection Cassette should be used within 1h when taken out from aluminum foil bag.
The Sample Extraction Reagent can be stored for 1 month after opening.
Warnings and Precautions
For in vitro diagnostic use only.
For healthcare professionals and professionals at point of care sites.
Do not use this product as the sole basis to diagnose or exclude SARS-CoV–2 infection or to inform infection status of COV1D-19.
Do not use after the expiration date.
Please read all the information in this leaflet before performing the test.
The test cassette should remain in the sealed pouch until use.
All specimens should be considered potentially hazardous and handled in the same manner as an infectious agent.
The used test cassette should be discarded according to federal, state and local regulations.
FAQ
1. Could you provide free samples for our testing before we place an order?
Re: Sure, we'd like to offer free samples for you, but the freight fees should be paid by buyers.
2. Are you a manufacturer or trading company?
Re: We are manufacturer specialized in Single-use Sampler and Virus Nucleic Acid Extraction Kit and Nucleic Acid Detection Kit and IGG/IGM rapid test kit.
3. Do you support OEM/ODM order?
Re: Of couse, we support OEM/ODM order.
4. Do you have any certifications?
Re: We have CE, ISO, SGS etc. certifications.
5. What is your best delivery time?
Re: It will depend on your order quantities. We will confirm with you after you placed the order.
6. I'm a distributor/small wholesaler, could you accept small order?
Re:Yes, we could.
---
---
Write your message here and send it to us